OnlineProgramme:
'Technologising the EU Border', Het Nieuwe Instituut, Rotterdam

︎ Thursday, June 4, 2020
19:30 - 21:00 CEST

[Watch here]

This curated evening will present the work of Ariana Dongus, Flavia Dzodan, Matthias Monroy, Ahmet Ögüt and Annalisa Pelizza and who each offer a range of insights into this issue. The programme demonstrates the multiple perspectives that those from wide-ranging disciplines bring to how increasingly technology is relied upon within migration systems. From exploring technologies as methods of both making and discrediting evidence, to the role of tech in forming an unevenly distributed restriction on bodies, and to the border as a site of growing investment and profit, their research and practice contributes to exposing and thinking through the surge in technological strategies for exclusion in, and by, Europe.
The programme is supported by Stimuleringsfonds Creatieve Industrie.

Talk: The Common Inn – Het Nieuwe Instituut, Rotterdam

︎ Thursday, April 18, 2019

We will be presenting System of Systems as part of a 12-hour programme organised by the Het Nieuwe Instituut, bringing together practitioners to share and discuss work.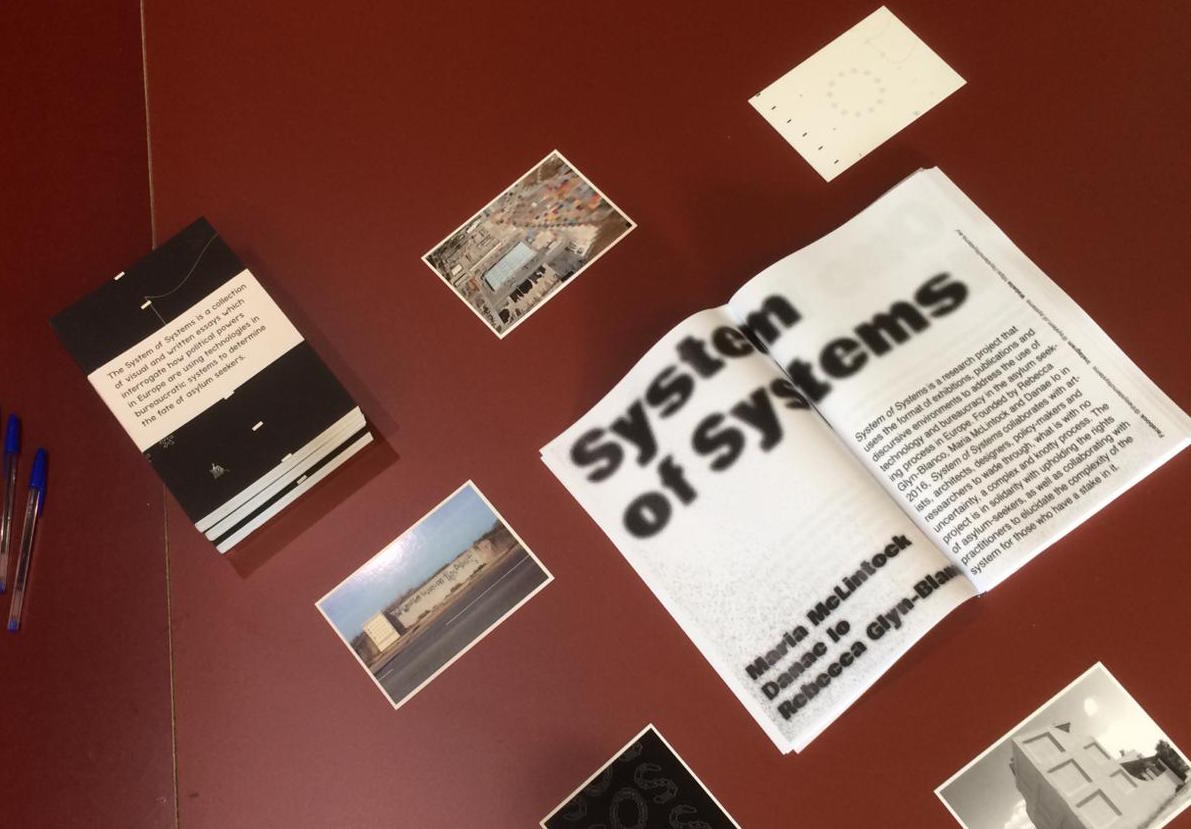 Symposium: Home, Belonging and Language – King's College London

︎ Friday, July 27, 2018 9:00 - 18:00

We will join a day of discussion around notions of home and belonging in relation to migration, identity and language.

Launch:
Contra Journal, Issue 01: Displacement
– Rich Mix, London
︎ Friday, January 19, 2018 12:00 - 13:00
System of Systems
will exhibit at
Contra Journal
's launch event at Rich Mix. Read an article about
SoS
on their
website
. The magazine is also available to
buy online
and contains an essay about the film installation "And if the asylum seeker does not wish to participate in the interview?"
Forum:
The Expanded Field – S
heffiled School of Architecture
︎ Tuesday, November 21, 2017 14:00 - 18:00
We will be presenting
System of Systems
at Sheffield School of Architecture Forum on a panel alongside Rene Boer, Grainne Hassett and Renata Tyszczuk.
Talk:
DUF x SoS
– Goldsmiths University, London
︎ Thursday, September 21, 2017 16:00 - 17:00
Join us for a presentation of The System of Systems project and talk about the making of the publication alongside Design Unlikely Futures. DUF will be doing a live Q&A with their tandem bike from Lesvos and showing a selection of their films made since 2015 in Calais and Greece.
Book Launch: System of Systems – Platform, Southwark

︎ Thursday, August 10, 2017 19:00 - 22:30

You'll have the opportunity to hear a talk from Melanie Friend and watch short films by Design Unlikely Futures.